I'm honored to have been selected for inclusion in the group exhibition PELIGROSOS (DANGEROUS), at CASASUR Art Lab in Madrid. It is an exciting collection that you really must see if you are in the city. I had the pleasure of experiencing the pieces and also meeting two of the gallery curators Alain Cugnec and Eric de Giles last weekend.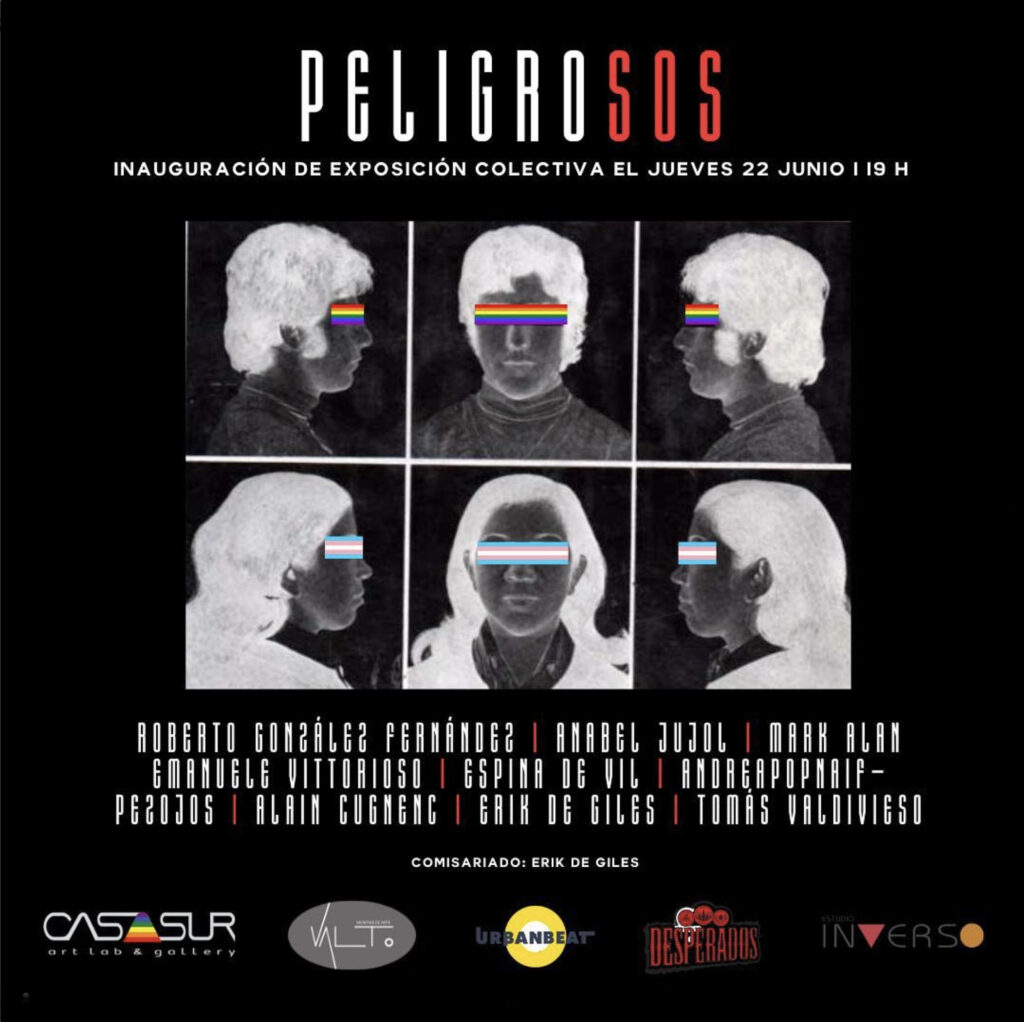 Here is a description from their press release describing the show.
CASASUR ART LAB & GALLERY opened the exhibition Dangerous. The collective exhibition reflects on the moral parameters imposed by the legislation of the years of the dictator, as well as on the social perception of sociological Francoism in the face of the LGTBIQ+ reality. Artists such as Tomás Valdivieso, Roberto González Fernández, Emmanuele Vittorioso, Anabel Jujol, Mark Alan, Andrea Popnaif.Pezojos, Espina de Vil, Erik de Giles, Alain Cugnenc and Erik de Giles participate in the show.
Within the framework of the celebration of LGTBIQ+ Pride, and in a political context, in which the demands of this group come back to the present and to the social and political discourse, Casasur Art Lab&Gallery inaugurated Peligrosos delves into the famous law of Social Dangerousness, which the dictator of General Franco instrumented as a repressive element of the gay and trans community. And it also opens reflections on how legislation mediates and influences collective thought, until injustice is normalized.
"The Dangerousness and Social Rehabilitation Law was legislation, used from 1971, that allowed the persecution and discrimination of certain groups of people considered "dangerous to society". Unfortunately, for decades, this law was applied against the LGTBIQ+ community, thus justifying discrimination and repression against lesbian, gay, bisexual, and transgender people, and all individuals and groups that did not meet society's heteronormative standards. Under the pretext of protecting morality and traditional values, this law was used to criminalize homosexuality and persecute those who openly lived their gender identity or expression. This legislation, based on prejudices and outdated stereotypes, caused great suffering and limited the freedoms and fundamental rights of the LGTBIQ+ community, perpetuating discrimination and marginalization in Spanish society. Fortunately, with the advancement of human rights and social progress, this law was repealed and replaced by legislation that is more inclusive and respectful of diversity, recognizing the rights of all people, regardless of their sexual orientation or gender identity.
However, although significant progress has been made, it is necessary to continue working to eliminate any form of discrimination and violence against the LGTBIQ+ collective. Education, awareness-raising and the promotion of equal rights continue to be fundamental to building an inclusive society that is respectful of sexual and gender diversity.
Despite the challenges and oppression they face, LGTBIQ+ artists have always found in art a way to express their identity and their fight for equality. Dangerous wants to be a powerful statement that art cannot be silenced or controlled by discriminatory legislation. Through various forms of expression, such as painting, collage, photography and performance, Casasur Art Lab&Gallery presents this exhibition so that these artists come together to challenge the status quo by creating a space of freedom and respect.
Currently, although important advances have been made in the fight for equal rights in recent decades, the LGTBIQ+ community and other minorities still face significant challenges. One of the greatest dangers is the constant threat of losing acquired rights. It is important to recognize that the rights of the LGTBIQ+ community are not permanent or guaranteed. Although many nations have enacted laws that protect against discrimination based on sexual orientation and gender identity, these protections can be revoked or weakened at any time, as we have seen in countries like Hungary, the United States, or Uganda.
In short, the LGTBIQ+ community is still in danger facing ongoing challenges today. The danger of losing acquired rights is a constant reality, and the fight for equality and justice must continue. It is everyone's responsibility to defend the rights of LGBT+ people and work together to create a more inclusive and respectful society.
We want this exhibition to show the wide range of identities and experiences that make up the LGTBIQ+ community. From personal and emotional perspectives to social and political critiques, each piece of art tells a unique and authentic story. By exploring themes such as gender, sexuality, equality and the fight against discrimination, Peligrosos seeks to foster understanding, empathy and dialogue among visitors, challenging the stereotypes and marginalization that have historically affected the LGTBIQ+ community. We want this show to inspire and celebrate diversity in all its forms.
We want art to invite us to reflect on our own attitudes and prejudices, as well as to question the legal and social system that perpetuates discrimination. We want to change the future."